MY GOOD PLANS "AFFAIRES"
For a friendly and discovery-rich stay, Mercure Saint-Malo offers you a guided tour of the Old City!
Enjoy a discovery stay during your seminar at Hôtel Mercure Saint-Malo Balmoral!
Ideally located opposite the Saint-Malo station, close to the old town and the main beach, you can easily access the city's emblematic places and even enjoy a getaway to Mont Saint Michel...
Our team members will help you design the perfect stay to combine work and pleasure!
Take advantage of our special offer for your end-of-year meetings now:
A welcome coffee offered
A plenary room offered for a semi residential seminar of at least 15 people
An upgrading to a superior room from 15 people
For a seminar reservation scheduled until 2020.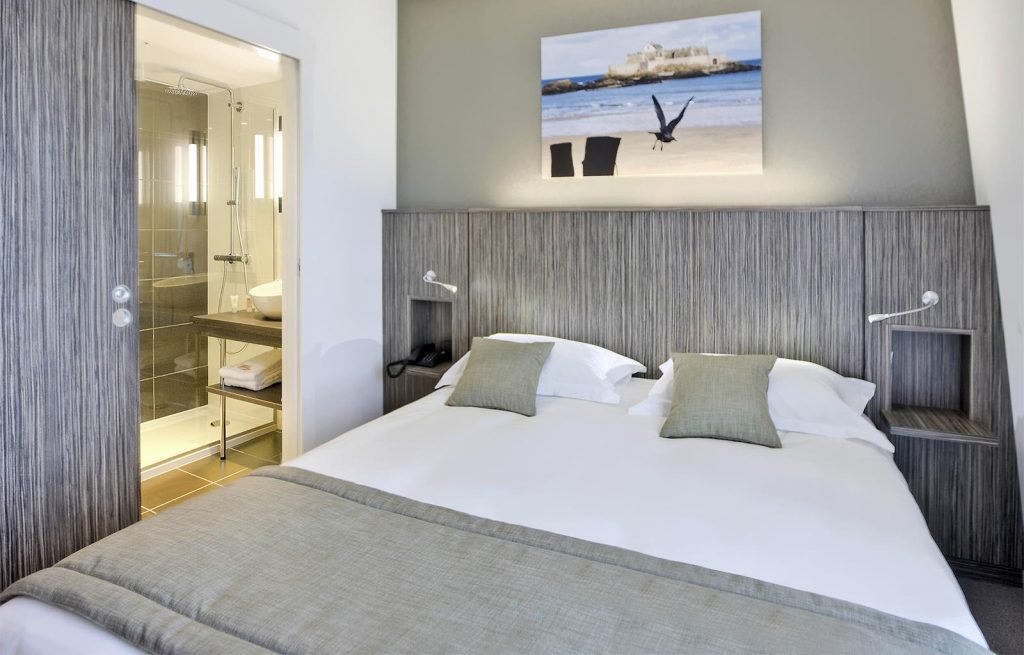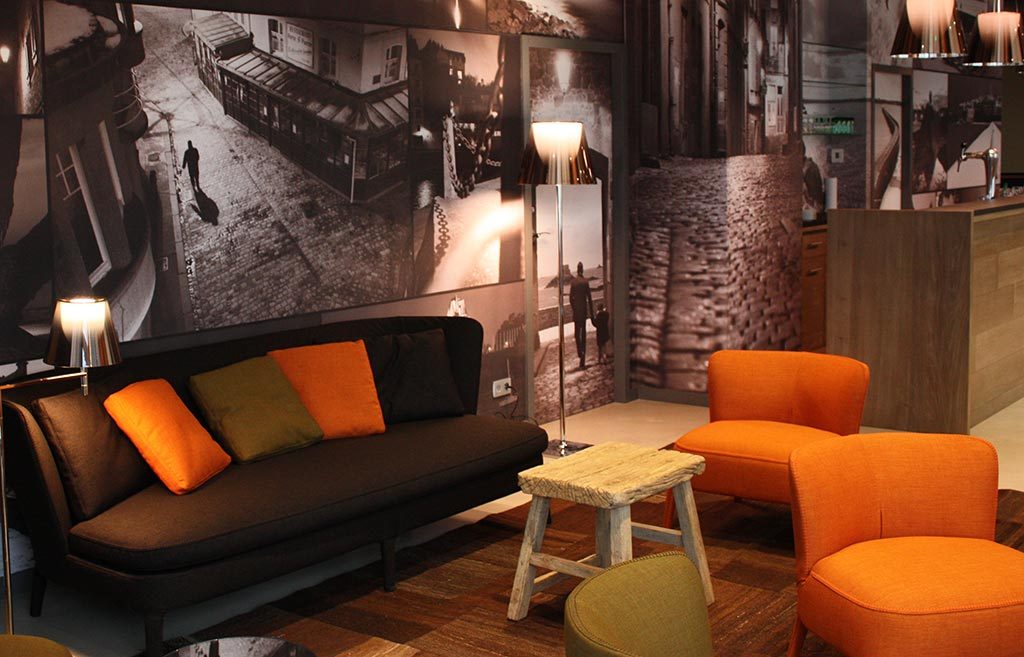 Validity of the package :
Ovalid for the period mentioned, subject to availability, for any new hosted meeting request. Offer not retroactive and cannot be combined with any other offer or promotion in progress.
Hotel Balmoral, the ideal place for your seminar
Facing the TGV station, MERCURE SAINT MALO BALMORAL is ideally located near historical sites, the beach and restaurants.
Equipped with 3 modular meeting rooms, soundproofed, air-conditioned and in daylight, you will appreciate the convenience and comfort of the premises. Our rooms have a capacity of 90 people and have free wifi.
During the seminar breaks, treat yourself to a relaxing moment in the lounge bar where you can enjoy fruit juices, hot drinks and snacks.
Seminar offers
Study day: From 50€ TTC (subject to certain conditions)
The meeting room
Two breaks
A 3-course lunch with a drink package (1 bottle of wine for 4 people, mineral water, and coffee)
Semi residential seminar stay
From 125€ TTC (subject to certain conditions)
Accommodation
Breakfast
Meeting room
Two breaks
Lunch or dinner (1 bottle of wine for 4 people, mineral water, and coffee)
For your seminars, MICE (Meeting, Incentive, conference, event, leisure group…), Mercure Saint-Malo Balmoral also adapts to your requests, by organizing theme evenings or sporting events.
Price indicated as an indication and subject to change.
Seminar room equipment
Automatic roll-up screen
Video projector
Paper Board
Telephone
Microphones
Blackout curtains
Printer and scanner (on request)
Mineral water, pencils, paper, notepad
Tailor-made catering: cocktails, breaks, lunch, dinner…
Activity, Incentive, Team Building
Thematic stays of our seminars,
in accordance with our environmental approach.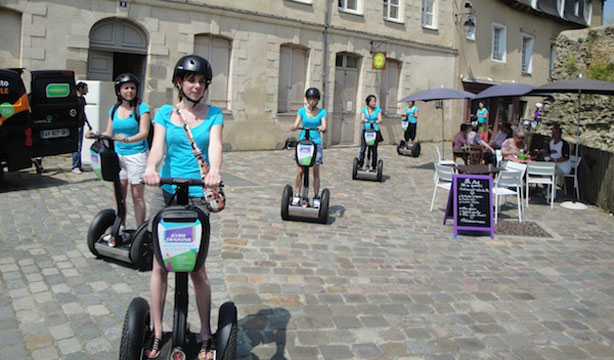 Visit of the corsair city
On foot with a guide Visit of the old town from 20€ / person
By bike : Rental cost of the bike: 11€ per day, 6€ per half.
Visit of the old town by 1 guide.
In Gyro Training : Looking for a walk that is out of the ordinary?
Get on board a gyropod, intelligent and ecological 2-wheeled transport.
Reacting to the movement of your body, you will quickly be able to immerse yourself in the world of the segway gyropod and enjoy it. From 35€/person
Treasure hunt :
Discover a new way to visit Saint-Malo. In the form of a treasure hunt, the events illustrate, through various paintings, the history of the city, its tumultuous past against the English, the race war, its great figures.
At the end of the session, the teams meet for a final event that may allow them to discover the coveted treasure.
The session will end with a friendly "closing drink", where you can taste a selection of products from our region.
Lovers of gastronomic discoveries?
We offer several forms of activity under the theme of Gastronomy:
Culinary demonstration from 10 people in a restaurant.
Cooking lessons (ex: around the Noix de Saint Jacques from 50€/person)
Lunch around the cheese (from 40€ / person)
This lunch around cheese can be commented and hosted by Jean Yves Bordier. Bread Butter Bordier: Half Salt, Seaweed, Smoked Salt, Yuzu and Espelette Pepper, Lemon Olive Oil, Vanilla Selection of Ripened Cheeses (ex: Camembert, comté, fourme d'Ambert Pérail des Cabasses, St Nectaire, Ste Maure) White Wine Red Wine Drinks Dessert in Fontainebleau Rose, Reims Pink Cookie and its red fruit coulis.
Crepe workshop: Would you like to discover how to make real crepes using a bilig? Register for the instructive and fun training courses at the Atelier des crêpes to learn the skills and know-how of the crepe makers. (from 55€/person, meal included)
Also try the famous kouign-amann, a pure butter Breton cake! Any advice? Enjoy its crispness and legendary taste without worrying about calories...
Sand yacht.
Challenge the wind in your sand yacht. One lesson is enough to understand the basics of this sport and practice it (in complete safety, supervised by a team of professionals). Thrill guaranteed!
Nautical Challenge from 60€ / person
A wide choice of activities for your challenges: sand yacht, catamaran, ski bus, beach volleyball, sea rafting, beach skiing, beach games (mikado, tug-of-war...). Closing pot.
Sea kayaking : Beginners or advanced? Sail on the emerald water of our coast. You have the choice between several outings: Discovery outing, sunset outing or hiking. You will of course be supervised throughout by a competent team from 25€/person.
Stand Up Paddle :
The new fashion is at the Stand up paddle! This aquatic discipline is practiced standing on a board with the help of a paddle to move forward. Different formulas are available according to your expectations and your level. ) From 35€/person.

Coastline lanyard: The coastline lanyard is an aquatic discipline so the goal is to follow the coastline in the water.

Combining sport and conviviality, take a deep breath of iodized air and let yourself be tempted by a dynamic walk. From 15€ onwards



Naturalistic outing with the high tide of Saint Malo or hiking to discover the coastal landscapes
The outing takes place on a protected site on the wild coast between Saint-Malo and Cancale.

The group evolves in the middle of a unique diversity of landscapes (dunes, cliffs, mudflats).

The guide offers various participatory workshops to understand the environmental specificities of the different landscapes encountered:

Ornithological observation workshop, landscape reading, "tasting" of wild plants, creative workshop based on natural pigments.

At the end of the session, a closing drink served in the open air will allow participants to end the session in a friendly atmosphere.

Sailing outing to discover the bay of St-Malo and the Emerald coast. Boarding takes place at the foot of the Solidor Tower from Saint-Servan to Saint-Malo.
After a brief description of the boat and its handling, the participants divided up the tasks on board: helmsman, foresail trimmer, headsail trimmer, navigator. Your escort will endeavour to leave a feeling of autonomy to the crew when manoeuvring the boat. It will also be possible to fish on board
Barefoot crossing of the bay of Mont Saint Michel to the islet of Tombelaine
The outing takes place in the heart of the Bay of Mont-Saint-Michel between the wonder of the Mont and the mysterious Islet of Tombelaine.

The group evolves, barefoot, in the middle of this exceptional natural site beaten by the highest tides in Europe.

Participants will have the unique experience of walking on quicksand and feeling the fish spinning between their legs as they cross the Couesnon River.

Marine Farm
This visit will allow you to discover the oyster farming profession, but also the secrets of oysters and finally an exhibition on the most beautiful shellfish from all over the world. A fun and enriching visit with tasting.
Stroll on the old rigging le Renard : Embark on board this mythical ship for a stroll on the waves.Embarquez à bord de ce navire mythique pour une balade sur les flots. You can discover the Emerald Coast from another angle. Between stopovers and exceptional surroundings, this unique stroll is a real moment of pleasure for the whole family.
IN BRETAGNE…
Do you think Bretagne is far too far away?
In 2019, organise your business trips to Saint-Malo without turmoil….
Thanks to the development of the LGV Bretagne-Pays de La Loire, Paris, it only takes 2H15 to reach the city of privateers!